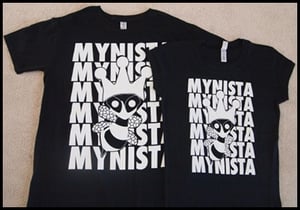 $

15.99 - On Sale
About The Shirts
His - Gildan Softstyle (Athletic cut), ring spun, 100% cotton, preshrunk.
Hers - Bella (Babydoll cut), 98% cotton, 2% spandex.
About Mynista's logo
There are scientific myths & folklores that say the Bumblebee is not supposed to be able 2 fly because of its wing size vs body size, etc....blah, blah blah.
Regardless of what people say, we flyy (live) by FAITH IN THE BLOOD OF JESUS! "Only BEELIEVE!"
Philippians 4:13 "I can do all things through Christ which strengtheneth me."
Sizes available
- [Adult: S, M, L, XL, XXL]